Home Water Test Kits
Is your drinking water safe? Have your drinking water thoroughly tested for a wide range of potential contaminants today.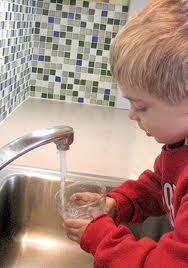 Find out just how clean your drinking water is. The New York State Health Department and the NYS DEC recommend annual testing of your well water. A comprehensive testing will be performed by our laboratory with an easy to collect sample system sent to you for collection at your convenience. The knowledgeable staff at
C2G Environmental Consultants
will provide you with results. In the event contamination is found,
C2G Environmental Consultants
will provide you with next step recommendations.
The comfort of knowing your family is drinking clean water can be yours in about a week to ten days.

You will receive a water test kit & instructions by mail. Please read all instructions prior to taking your sample. Then, fill out the form, add water as directed, and mail back. It's that simple!

Additional Test(s) are available upon request.

For more information please e-mail us at info@c2g.us



Please call for pricing if you would rather have a technician come to your house to sample.




Option 1- Home Water Test Kit
NY State Health Department recommended household water testing:

Coliform Bacteria, Lead, Nitrate & Nitrite, Sulfate, Odor & Color, Iron plus manganese, Sodium, pH, Hardness, Alkalinity, & Turbidity.

Why Test for This (click here).



**Includes Written Lab Results & Verbal Review**

Option 2 - Home Water Test Kit

NY State Health Department recommended household water testing:

Coliform Bacteria, Lead, Nitrate & Nitrite, Sulfate, Odor & Color, Iron plus manganese, Sodium, pH, Hardness, Alkalinity, & Turbidity.

Plus Pesticides and Arsenic Why Test for This (click here).



**Includes Written Lab Results & Verbal Review**



$379.99 + Shipping and Handling
Option 3 - Home Water Test Kit

NY State Health Department recommended household water testing:

Coliform Bacteria, Lead, Nitrate & Nitrite, Sulfate, Odor & Color, Iron plus manganese, Sodium, pH, Hardness, Alkalinity, & Turbidity.




Plus

Volatile Organic Compounds, Total Dissolved Solids, and Metals

Why Test for This (click here).



**Includes Written Lab Results & Verbal Review**




$404.99 + Shipping and Handling
Option 4 - Home Water Test Kit

Includes all testing included in Options 1, 2 & 3


NY State Health Department recommended household water testing: Coliform Bacteria, Lead, Nitrate & Nitrite, Sulfate, Odor & Color, Iron plus manganese, Sodium, pH, Hardness, Alkalinity, & Turbidity.


Plus

Volatile Organic Compounds, Total Dissolved Solids, Metals, Pesticides and Arsenic.
Why Test for This (click here).



**Includes Written Lab Results & Verbal Review**



$464.99 + Shipping and Handling

***Additional Test(s) are available upon request.***


Additional Resources:
NYS Department Of Health - Individual Water Supply Wells - Fact Sheet
EPA - Home Water Testing Guide
EPA - What to Do After the Flood
---
TOP