Ground Penetrating Radar, Tank Sweeps, Tank Locating Services in NY, CT and NJ
C2G Environmental Consultants, LLC offers a comprehensive Ground Penetrating Radar site survey service, including data processing, analysis, interpretation and reporting throught New York, Connecticut and New Jersey.
Ground Penetrating Radar (GPR) Uses & Applications


• Locate buried tanks
• Identify former tank excavations.
• Finding water and sewer lines.
• Locate metallic and nonmetallic pipes and utility cable
• Delineate pits and trenches containing metallic and nonmetallic debris
• Delineate previously excavated and backfilled areas
• Find subsurface obstacles such as rocks and old foundations
How it works: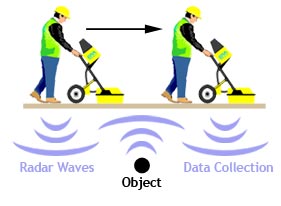 C2G Environmental Consultants, LLC utilizes a Dual Frequency Ground Penetrating Radar (GPR) to identify and locate metallic and non-metallic objects, old excavations, and subsurface anomalies down to a depth of approx. 18 feet. Site conditions, geology, etc. will determine how far down the unit can scan. The dual frequency antenna GPR utilized by C2G Environmental Consultants, LLC allows us to view both shallow and deep subsurface features with one unit. Applications for GPR include, but are not limited to determining depth to bedrock, or locating sink hole threats, buried foundations, buried debris, septic systems, oil & gas tanks, underground utilities, and old excavations. GPR also can be utilized in forensic investigations and road inspections. While Ground Penetrating Radar does not delineate soil or ground water contamination, it can find potential sources of contamination such as a buried drum or long forgotten tank.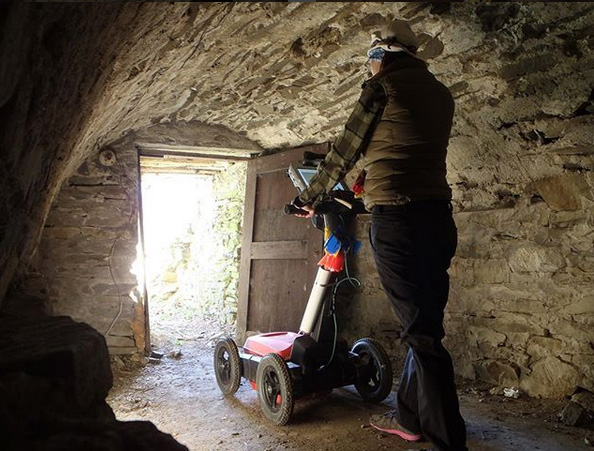 Photo: GPR being used looking for a rumored connection between a root cellar and a historical mansion.
Ground Penetrating Radar (also known as Ground Radar, Ground Probing Radar, GPR and Surface Penetrating Radar) provides a non-intrusive and non-destructive method of surveying the Subsurface and Concrete Imaging. It is a highly cost effective non-disruptive technique, offering a rapid means of obtaining subsurface from a variety of materials including soil, concrete and asphalt.

Ground Penetrating Radar (GPR) NY, CT and NJ Service Area List

Ground Penetrating Radar (GPR) Hudson Valley
Ground Penetrating Radar (GPR) Westchester County
Ground Penetrating Radar (GPR) Long Island
---
TOP