Our Services
C2G Environmental Consultants, LLC specializes in underground storage tank removals and abandonments, above ground storage tank removals and installations, remediation of contaminated soil, groundwater investigations, and emergency spill response. By choosing C2G Environmental, you can be assured that your environmental project will be handled with the utmost care and professionalism.
C2G Environmental is a full service environmental company.
What sets us apart from other companies is our highly trained staff of geologists and hydrologists, as well as technicians. We do not use sub-contractors or rental equipment. We are authorized by New York, Connecticut and New Jersey to remove and haul contaminated material.

Since C2G Environmental was founded, we have maintained the focus of providing clients with uncompromising quality, on-time project completion and fair and cost effective prices. Each project is considered in its entirety, with the boundaries specified by the client and with the comprehensive experience and expertise of the C2G Environmental staff.
• Oil Tank Removal, Abandonment & Replacements
• Ground Penetrating Radar / Oil Tank Locating
• Emergency Spill Response
• Geo Probe
• Phase I, II, & III Environmental Site Assessments
• Vac Truck
• Soil/Water Testing
• Mold/Air Sampling
• Home Water Test Kits
• Soil/Water/Waster Disposal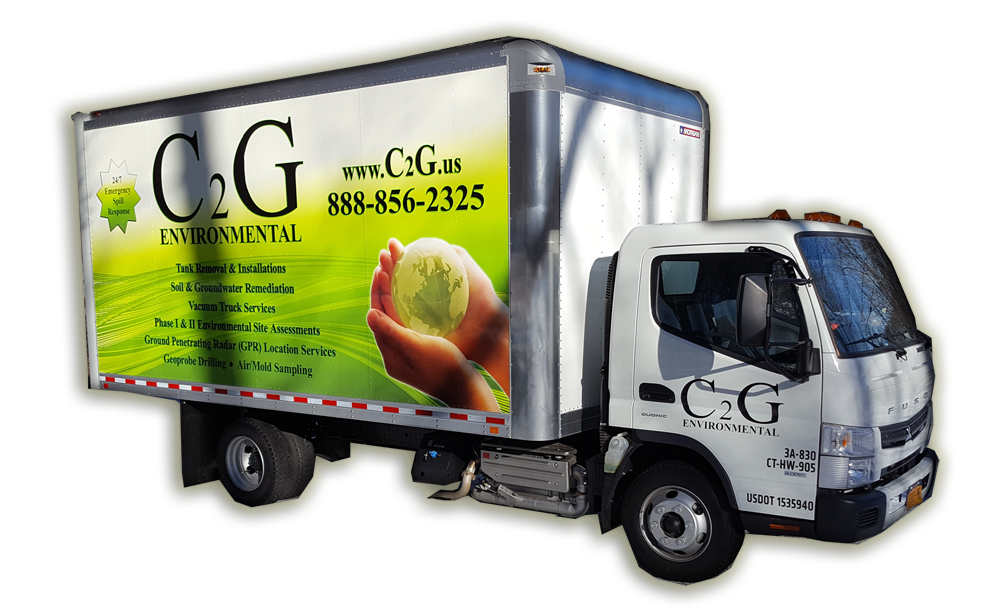 ---
TOP